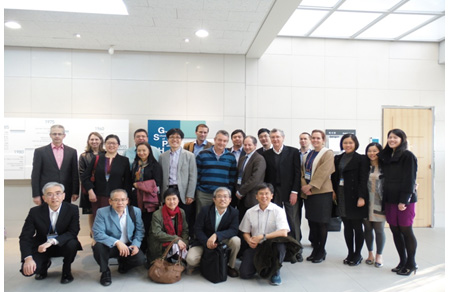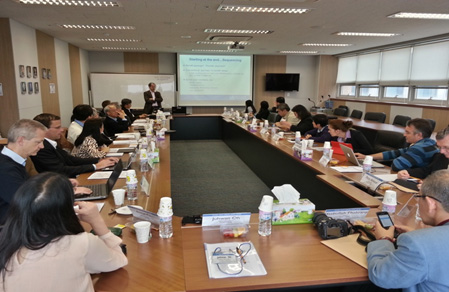 The Graduate School of Public Health of Seoul National University was recently designated as a World Health Organization Collaborating Centre (WHOCC) for Health Systems and Financing. Lead by its director Prof. Soonman Kwon (Dean), a two-day Health Financing Experts' Meeting was initiated making it the centre's first activity as WHOCC.
Gathering health financing experts around the world, sharing of knowledge and experiences to key health financing issues were among the agenda set. Participants include experts' from the headquarters and regional offices (WPRO & EMRO) of WHO, World Bank, Asian Development Bank, Health Financing experts from GIZ, and Scholars from Australia, Japan, China, Thailand, & Indonesia. These experts' has been involved in different development initiatives and evaluation of country strategies towards the achievement of Universal Health Coverage (UHC). Among the issues discussed was the link of health financing and service delivery, expansion of social health protection to the informal sector, coordination of different payment mechanisms, & issues on pharmaceutical policies.
The two-day meeting ended fostering collaboration and knowledge exchanges between experts. Conclusions of discussions includes among others, recognition of the need for further evidences supporting what works and not in policy making, and the extraction of country-specific lessons for the improvement of health financing policies as a major step towards achieving UHC.
ㅁ Participants List
- Soonman Kwon (WHOCC-HSF, Director)
- Chang Yup Kim (Seoul National University, Public Health)
- Bong Min Yang (Seoul National University, Public Health)
- Juhwan Oh (Seoul National University, Medicine)
- Peter Annear (Nossal Institute for Global Health)
- Caryn Bredenkamp (World Bank)
- Naoki Ikegami (Keio University)
- Bart Jacobs (GIZ-Cambodia)
- Patricia Moser (Asian Development Bank)
- Viroj Tangcharoensathien (International Health Policy Program)
- Hasbullah Thabrany (University of Indonesia)
- Holger Thies (GIZ-Greece)
- Wen Chen (Fudan School of Public Health)
- Ke Xu (WHO-WPRO)
- Vivian Lin (WHO-WPRO)
- Annie Chu (WHO-WPRO)
- Ngan Do (WHO-WPRO)
- Eunkyoung Kim (WHO-WPRO)
- Henrik Axelson (WHO-Cambodia)
- Jun Gao (WHO-Lao PDR)
- Phuong Nguyen (WHO-Viet Nam)
- Martin Taylor (WHO-China)
- Dodo Banzon (WHO-EMRO)
- Joe Kutzin (WHO-HQ)
ㅁ Concept Note (Attached File)